Sample Library for Native Instruments Kontakt
*Requires FULL version of Kontakt 5.8 or above - see full details below.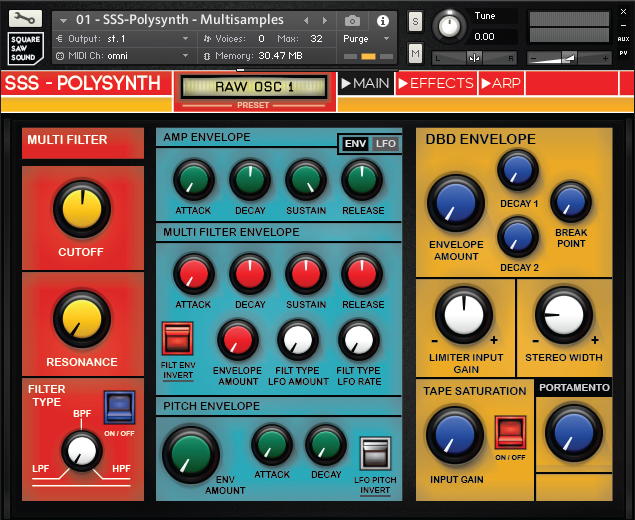 Vintage Sounds from the EMS Polysynthi
• 213 Multi-Sampled Patches
• 186 Tempo-Synced Looped Sequences
• 184 'One-Shot' + Looped SFX
• 150 Instrument Presets
SSS-Polysynthi: Audio
'Pocket Money' - SSS-Polysynth (Demo Song)
All sounds in this track (except drums) were created using the SSS-Polysynth.
The Sampled Instrument:
The EMS Polysynthi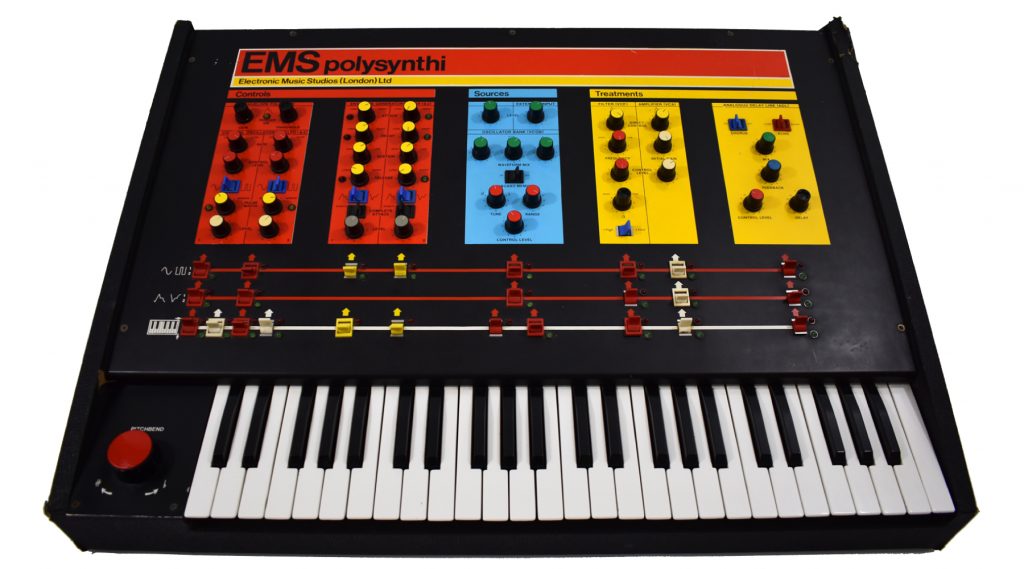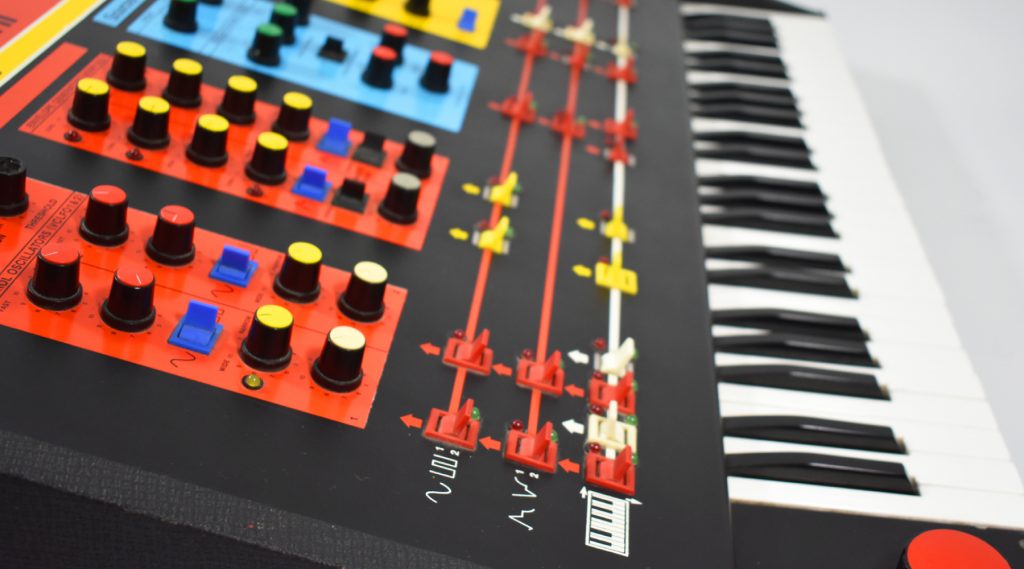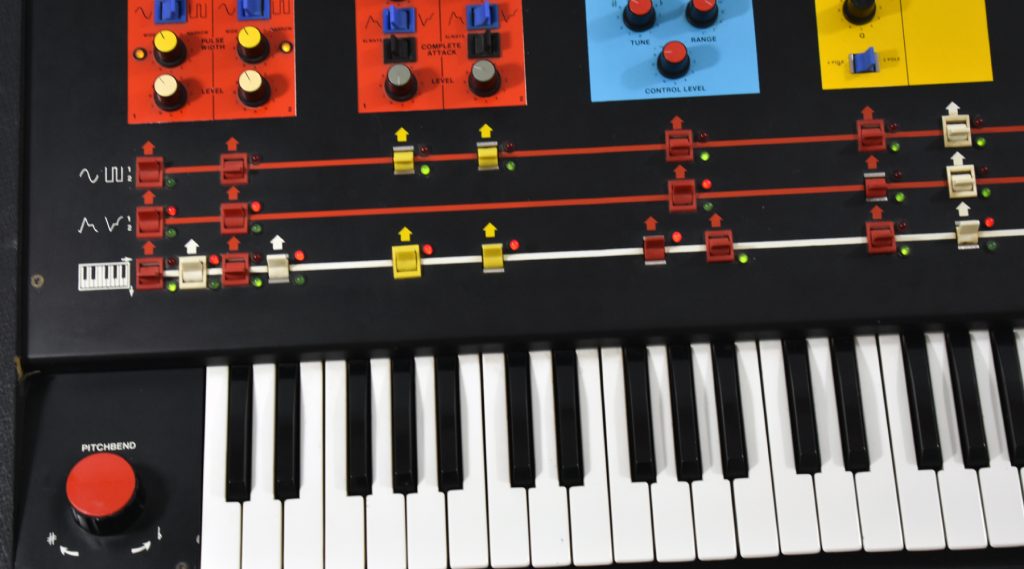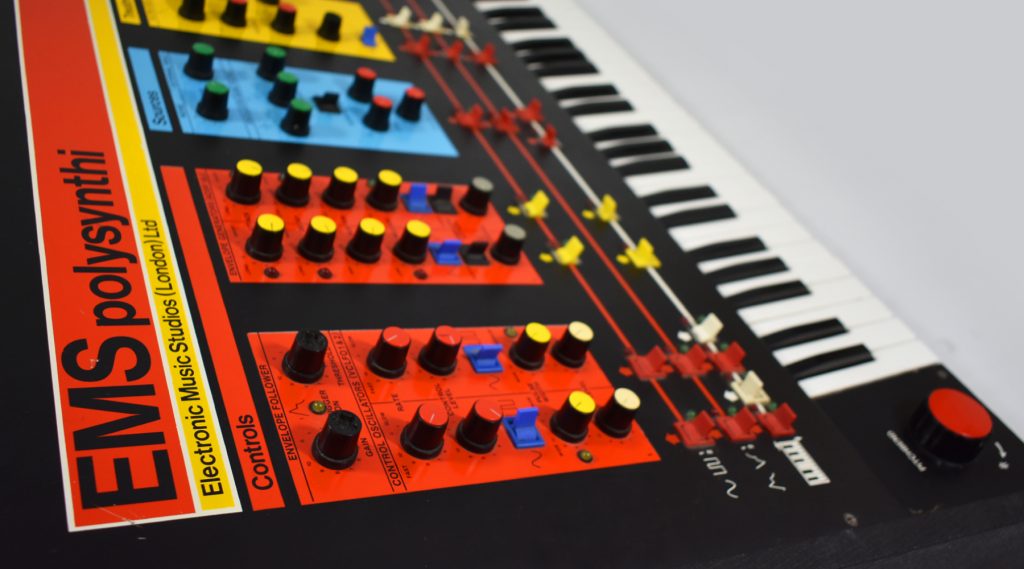 The Sampled Instrument:
Electronic Music Studios (EMS) Polysynthi
The Polysynthi was produced in 1978 by EMS during a period of financial difficulty and was therefore discontinued later, that same year. EMS produced less than 30 Polysynthi Synthesizers and so the EMS Polysynthi is an incredibly rare instrument. The Polysynthi had a fully polyphonic 4 octave keyboard controlling a Voltage Controlled Oscillator Bank (VCBO). There was only 1 VCA and 1 Filter, switchable between 2 pole (12dB) or 4 pole (24dB) available for all the voices, therefore the instrument was really only 'para-phonic.'
The Polysynthi featured 2 x Voltage Controlled LFO's (VCLFO) with sine and variable pulse waveforms which could modulate each other or be frequency modulated by either of the 2 ADSR's. The LFO's could also trigger the ADRS's allowing performers to control parameters such as the filter or the analog delay line. The Polysynthi's voltage controlled analog delay had a switch for short echoes (which could produce chorus, flanging and reverb effects) and long echoes of upto 1 second. The Polysynthi's sound sources were two VCO's producing triangle, square and pulse waveforms and there was also a noise generator. These sound sources could be mixed independently via the Polysynthi's VCBO mixer section.
The SSS-POLYSYNTH Sample Library:
The SSS-Polysynth Sample Library contains 3 x Kontakt Instruments:
Multi-Samples / Loop Machine / SFX
Multi-Samples
There are a total of 213 multi-sampled "patches." Each patch has been created by carefully sampling the EMS Polysynthi at various pitches across several octaves.
Loop Machine
The Loop Machine contains 186 looped sequences. Each sequence has been stretched across the keyboard from C1 to G8 and has been 'Beat Machined' to allow all sequences to be played in sync with the tempo of your host DAW.
SFX
SFX are a collection of 184 one-hit and looped sound effects and ambiences perfect for creating soundscapes and special effects. The samples are spread across the keyboard. There are 2 'banks' of SFX that can be selected via the instrument's preset menu.
SSS-Polysynth: Audio
Preset Examples:
This playlist includes several example patches from some of the 150 Instrument Presets that are included with the 'SSS-Polysynth.' The Presets are divided into the following sub-categories: Pads / Bass / Keys / Ambient Pads. The playlist also includes examples of the SSS-Polysynth's 'SFX' and 'Loop Machine' sample libraries. These examples all include effects processing such as Reverb, Delay, Chorus, Saturation etc from the SSS-Polysynth's built-in Kontakt effects.
Main Edit Panel (envelopes section):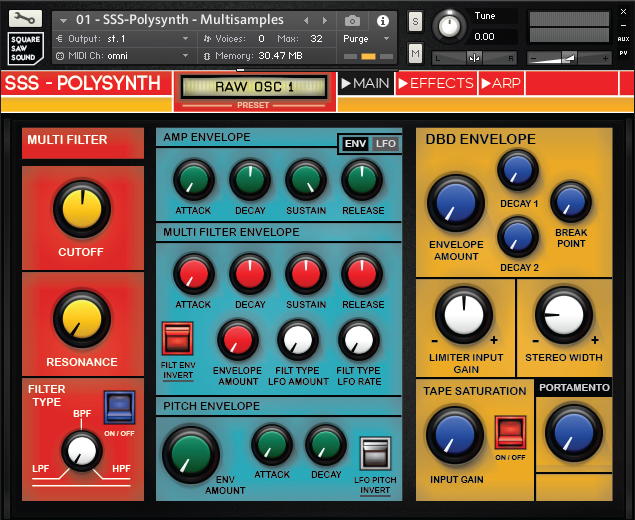 Main Edit Panel (LFO section):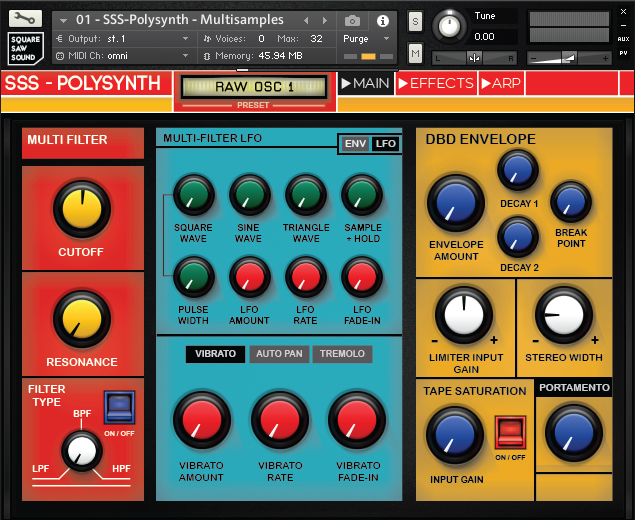 Effects Edit Panel: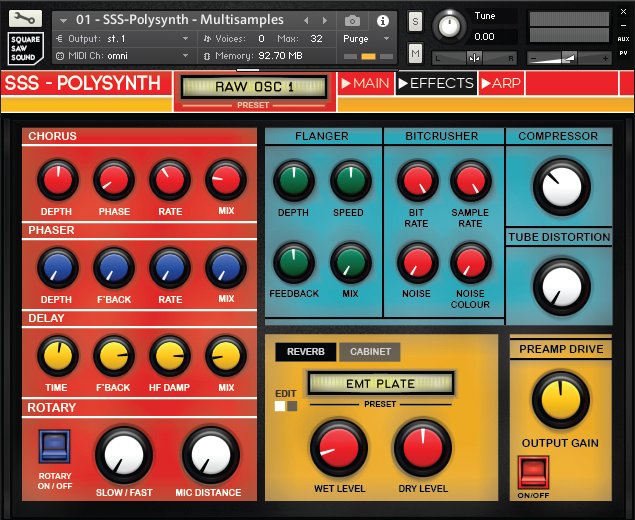 Arpeggiator + 32 Step Velocity Sequencer: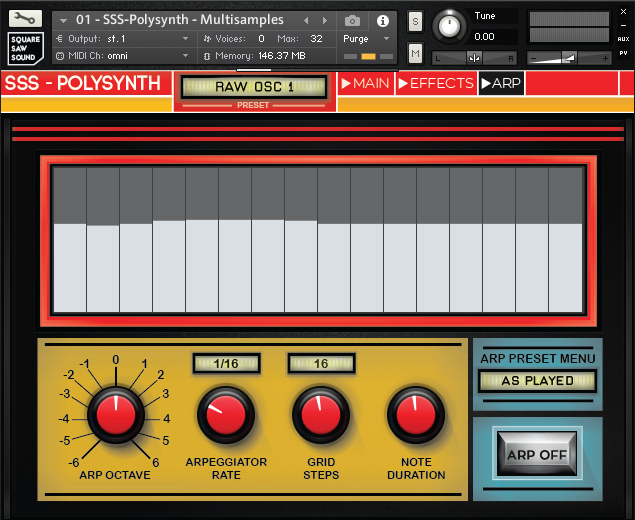 The Kontakt Instrument Features:
The instruments utilise Kontakt's effects to offer a wide range of options for sculpting and manipulating the raw sounds. Each instrument has filter, envelope and LFO controls as well as portamento and a white noise generator. There is a collection of modulation effects such as vibrato, tremolo, autopan, chorus, phaser and flanger as well as several distortion and saturation effects. Further ambience and filtering can be added with the speaker cabinet, delay and convolution reverb, which contains impulse responses of real plates, springs, halls and special fx. Last but not least, there is a built in arpeggiator with a 32 step velocity sequencer.
Main Edit Panel Features:
• Multi Filter (LPF / BPF /HPF)
• ADSR Amplitude Envelope
• Multi Filter ADSR Envelope
• Pitch Envelope
• Multi Wave LFO (controls filter freq. cutoff)
• LFO controlling the Multi Filter 'Type'
• Vibrato / Auto Panner / Tremolo
• DBD Envelope
• Limiter
• Stereo Width Control
• Tape Saturation
• Portamento
Effects Edit Panel Features:
• Chorus
• Phaser
• Delay
• Flanger
• Lo-Fi / Bit Crusher + Noise Generator
• Rotary
• Parallel Compressor
• Tube Drive
• Convolution Reverb
• Speaker Cabinets + Preamp Drive (Distortion)
For detailed descriptions of all controls and features please see the SSS-Polysynth PDF Manual which is downloadable here:
SPECIFICATIONS:
KONTAKT FULL VERSION REQUIRED
Download Size (.zip folder) = 5.34 GB
Sample Library Size = 7.9 GB
Sample Resolution = 24 Bit, 44.1 kHz (Recorded at 32 Bit, 96 kHz)
***Please Note Before Purchasing:
The FULL version of Kontakt 5.8 or above is required.
'SSS-Polysynth' will load into the free version of Kontakt Player but it will time out after 10 minutes, so please do not purchase this product unless you are using the full paid for version of Kontakt 5 !!