Sample Library for Native Instruments Kontakt
*Requires FULL version of Kontakt 5.8 or above - see full details below.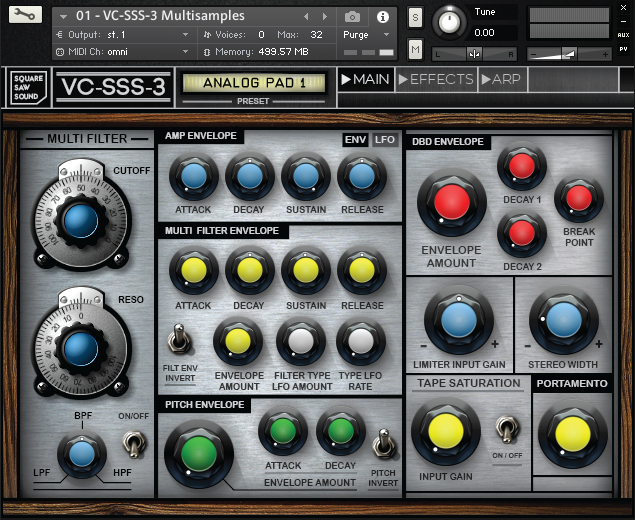 Vintage Sounds from the EMS VCS3 Analog Synthesizer
• 207 Multi-Sampled Patches
• 248 Tempo-Synced Looped Sequences
• 412 'One-Shot' + Looped SFX
• 150 Instrument Presets
VC-SSS-3: Audio
'Trapezoid' - VC-SSS-3 (Demo Song)
All sounds in this track (except drums and claps) were created using the VC-SSS-3.
The Sampled Instrument:
The EMS VCS3 (A.K.A 'The Putney')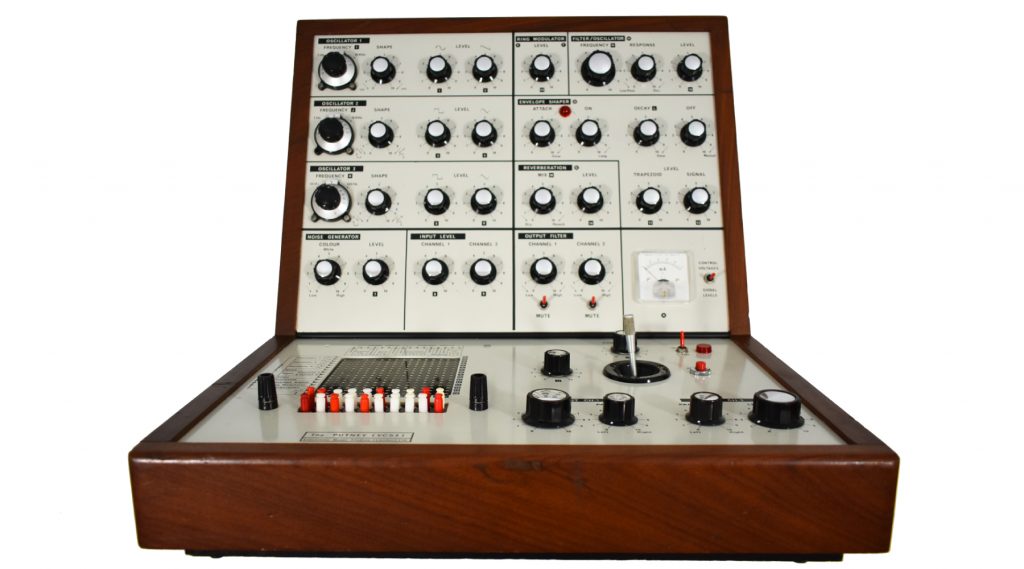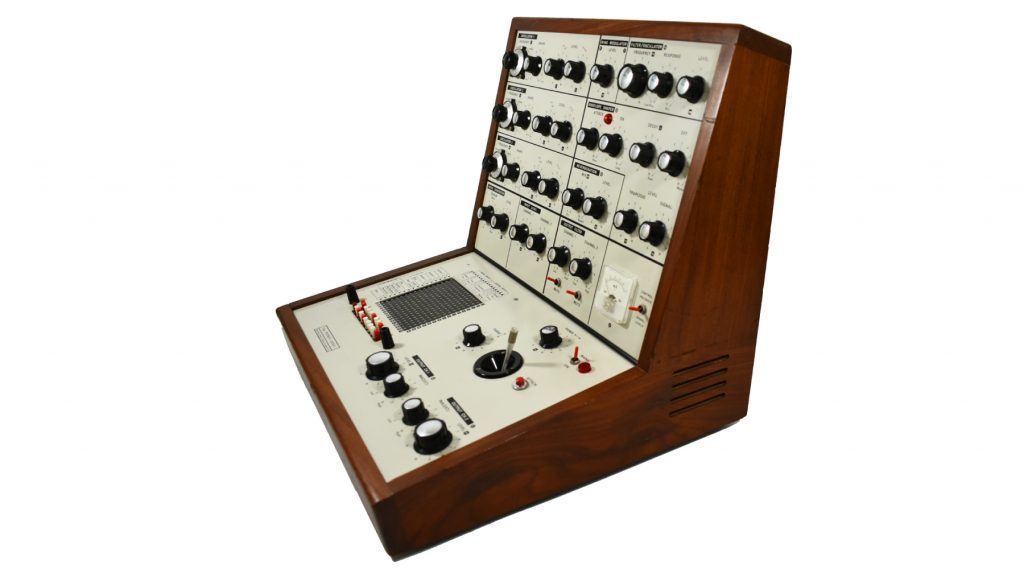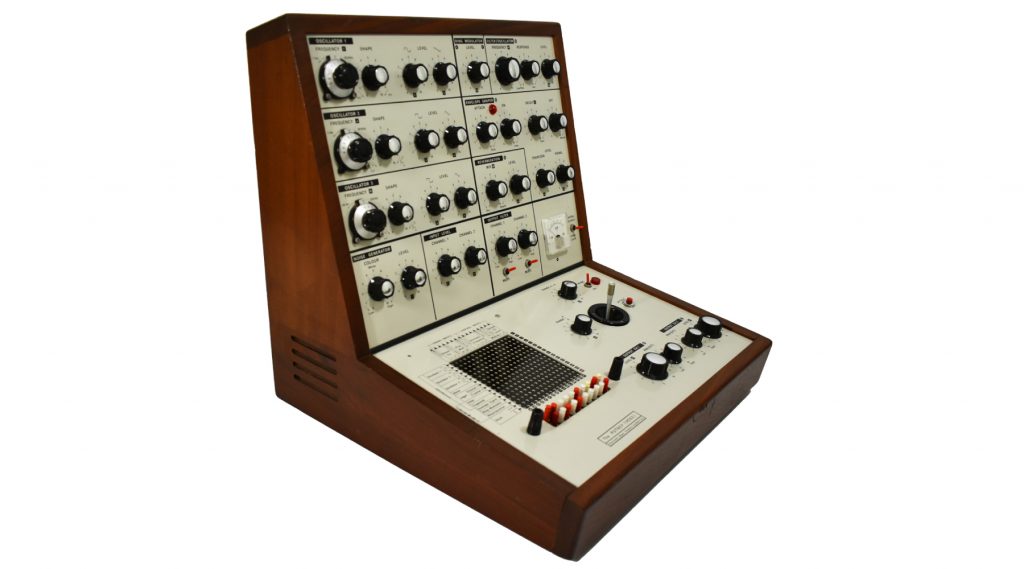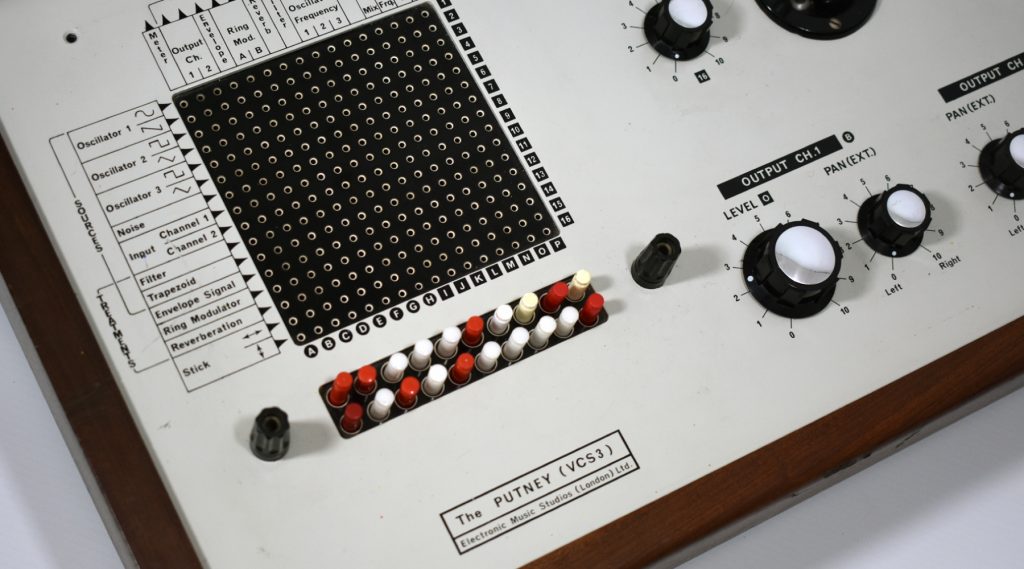 The Sampled Instrument:
Electronic Music Studios (EMS) VCS3
The EMS VCS3 is a legendary synthesizer that became renowned for creating otherworldly sound effects. This made the VCS3 the perfect instrument for sci-fi soundtracks and early experimental electronic music. Notable users include Brian Eno, ELO, Hawkwind, Jean Michel-Jarre, King Crimson, Kraftwerk, Delia Derbyshire and the BBC Radiophonic Workshop.
The VCS3 was capable of producing Subtractive and FM Synthesis. It featured 3 x Voltage Controlled Oscillators (VCO's) with the third oscillator acting as an LFO (Low Frequency Oscillator.) The VCS3 has a flexible, semi-modular voice architecture that is controlled using a unique matrix-based patch system. There is also a joystick controller for changing assignable parameters during performance. The VCS3 featured a Noise Generator, 2 Input Amplifiers, 1 Ring Modulator, 1 x Voltage Controlled Low Pass Filter (VCF), 1 Trapezoid Envelope Generator, 1 x Voltage Controlled Spring Reverb and 2 Stereo Output Amplifiers.
The VCS3 (also known as the 'Putney') is an analog monosynth housed in a distinctive wooden case. The VCS3 (Voltage Controlled Studio version 3) was first produced in 1969 and was one of the first synthesizers produced by EMS. The VCS3 was also one of the first portable, commercially available synthesizers.
The VC-SSS-3 Sample Library:
The VC-SSS-3 Sample Library contains 3 x Kontakt Instruments:
Multi-Samples / Loop Machine / SFX
Multi-Samples
There are a total of 207 multi-sampled "patches." Each patch has been created by carefully sampling the EMS VCS3 at various pitches across several octaves. The VC-SSS-3 can be played Polyphonically, which is something that was not possible on the original, Monophonic EMS VCS3.
Loop Machine
The Loop Machine contains 248 looped sequences. Each sequence has been stretched across the keyboard from C1 to G8 and has been 'Beat Machined' to allow all sequences to be played in sync with the tempo of your host DAW.
SFX
SFX are a collection of 412 one-hit and looped sound effects and ambiences perfect for creating soundscapes and special effects. There are 4 'banks' of SFX. The first two banks "DELIA SFX BANK A" and "DELIA SFX BANK B" were created using patches inspired by Delia Derbyshire's original 'dope sheets' and recording notes from some of her personal patches for the EMS VCS3. Delia Derbyshire was an English musician and composer of electronic music. She is best known for her pioneering work with the BBC Radiophonic Workshop during the 1960's, particularly her electronic arrangement for the British science-fiction television series, Doctor Who. The last two banks of SFX are original Square Saw Sound samples of the EMS VCS3.
VC-SSS-3: Audio
Preset Examples:
This playlist includes several example patches from some of the 150 Instrument Presets that are included with the 'VC-SSS-3.' The Presets are divided into the following sub-categories: Filters / Leads / Pads / Bass / Keys. The playlist also includes examples of the VC-SSS-3's 'SFX' and 'Loop Machine' sample libraries. These examples all include effects processing such as Reverb, Delay, Chorus, Saturation etc from the VC-SSS-3's built-in Kontakt effects.
Main Edit Panel (envelopes section):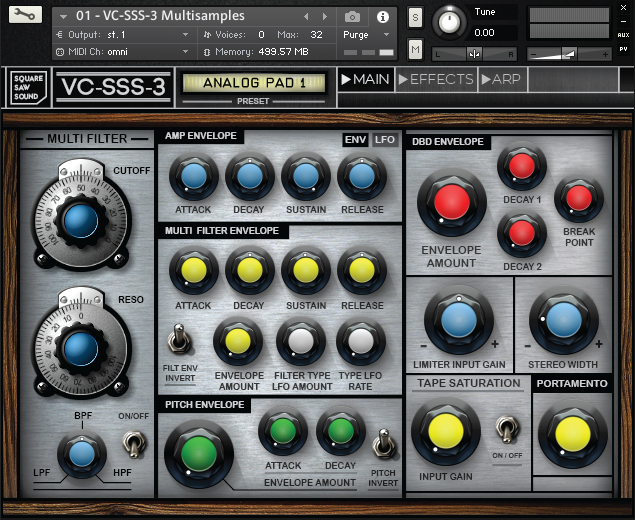 Main Edit Panel (LFO section):
Effects Edit Panel: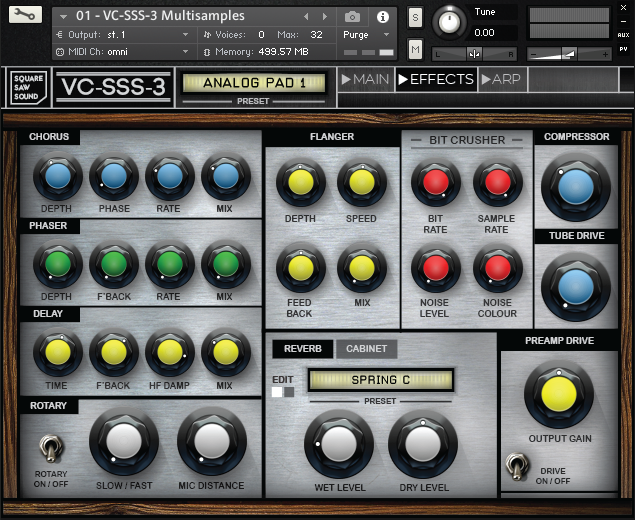 Arpeggiator + 32 Step Velocity Sequencer: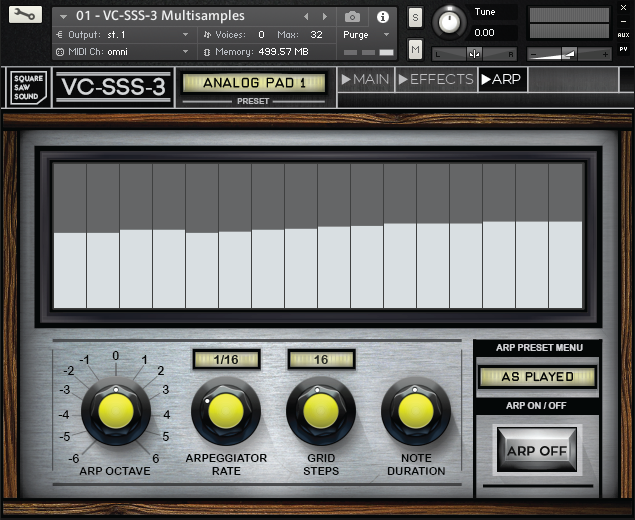 The Kontakt Instrument Features:
The instruments utilise Kontakt's effects to offer a wide range of options for sculpting and manipulating the raw sounds. Each instrument has filter, envelope and LFO controls as well as portamento and a white noise generator. There is a collection of modulation effects such as vibrato, tremolo, autopan, chorus, phaser and flanger as well as several distortion and saturation effects. Further ambience and filtering can be added with the speaker cabinet, delay and convolution reverb, which contains impulse responses of real plates, springs, halls and special fx. Last but not least, there is a built in arpeggiator with a 32 step velocity sequencer.
Main Edit Panel Features:
• Multi Filter (LPF / BPF /HPF)
• ADSR Amplitude Envelope
• Multi Filter ADSR Envelope
• Pitch Envelope
• Multi Wave LFO (controls filter freq. cutoff)
• LFO controlling the Multi Filter 'Type'
• Vibrato / Auto Panner / Tremolo
• DBD Envelope
• Limiter
• Stereo Width Control
• Tape Saturation
• Portamento
Effects Edit Panel Features:
• Chorus
• Phaser
• Delay
• Flanger
• Lo-Fi / Bit Crusher + Noise Generator
• Rotary
• Parallel Compressor
• Tube Drive
• Convolution Reverb
• Speaker Cabinets + Preamp Drive (Distortion)
For detailed descriptions of all controls and features please see the VC-SSS-3 PDF Manual which is downloadable here:
SPECIFICATIONS:
KONTAKT FULL VERSION REQUIRED
Download Size (.zip folder) = 2.98 GB
Sample Library Size = 4.43 GB
Sample Resolution = 24 Bit, 44.1 kHz (Recorded at 32 Bit, 96 kHz)
***Please Note Before Purchasing:
The FULL version of Kontakt 5.8 or above is required.
'VC-SSS-3' will load into the free version of Kontakt Player but it will time out after 10 minutes, so please do not purchase this product unless you are using the full paid for version of Kontakt 5 !!